I always like to surf the web and find cool things! You can find a lot of ideas and fun diys through scouring the web. Today in my Friday Favorites from the world wide web I found some awesome ideas that I definitely want to try, and maybe you'll find something you will want to try to!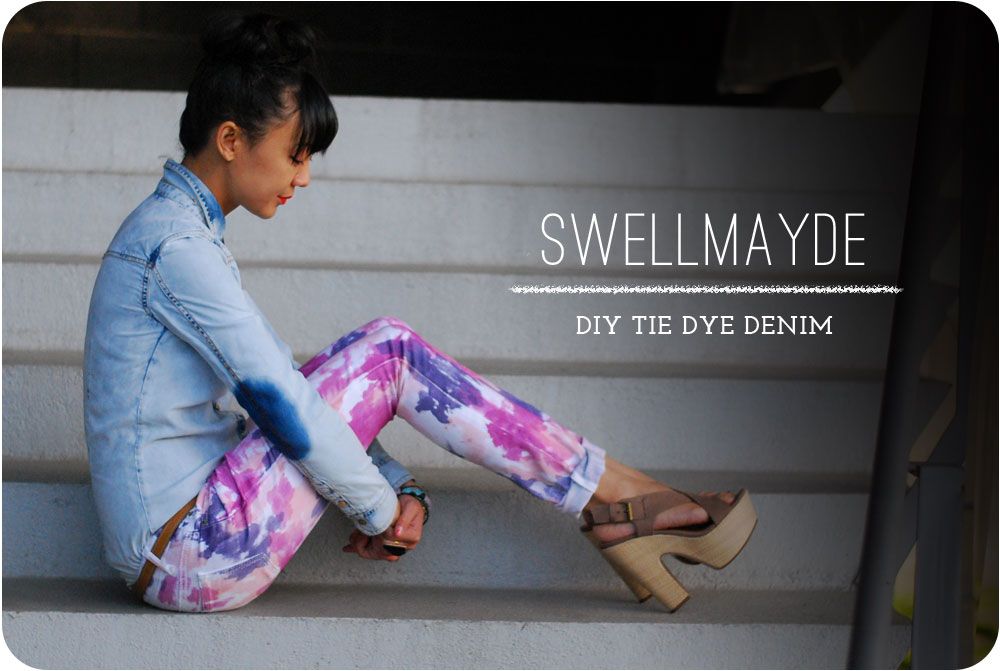 First is the diy tie dye denim from a site called

Swellmayde

! These look so fun and fresh! The best part is, is that they actually look legit, like a professional did it! To find out more on how to to this colorful diy click here!
2. Next is from the AMAZING site
Honestlywtf
! I am in love with literally all their diy's. This is particularly my favorite because it is more money savy to make floral headbands than to buy your own because as I have previously stated they tend to run steep. To learn how you can start adorning this gorg piece click
here
!
TIP: If you want a longer lasting headband use fake flowers instead of real ones!
3. This beaut is from
LovelyIndeed
! It is a trunk turned into a table. I have fallen deeply in love with trunk tables because they are so unique and vintage! To see how to get this for your abode click
here
!
4. I love this because I have a ton of magazines and they are just everywhere. the basket is clean ans easily stored. A plus is also the name plate! To find out where to get the basket and make the name plate visit the
LizMarieblog
!
5.
TheKipiBlog
is where I found this ultra creative diy. It's a place mat made into a purse-genius. Just hone in on a little bit of those sewing skills and you will be ready to go! Click
here
to learn how to make it!
6. I sutmbled upon this on
MyChicLife
, but the diy actually comes from
Delightfullydiy
. I did a previous post spotlighting Missoni and if you didn't read it you can find it
here
! Anywho, this is exactly what this necklace remind me of and I am loving it! To find out how, and what you need to make this click
here
!
7. So I recently found that t-shirt transparencies are wierdly overpriced. That is why I love this diy from
TheFirstLime
! All you really need is a t-shirt, rulers, sharpie, and a cd! To learn how to do this step-by-step click
here
!
Hope you found something that excited your creative abilites and TGITW!
(Thank God It's The Weekend!)