How cool of a costume is this?! I am guessing you know what this is implying but if not its's pop art. I love pop art and never really get tired of seeing it. Art like this is always so fun and it looks so realistic on her face to. To learn how to do this cool technique head on over to Sassy Street.
I am not one to wear dresses frequently just because I feel more comfortable in jeans. However over the summer I found some cute dresses and got into wearing them a bit. I love this dress because it can be transitioned into fall and even winter. The long sleeves will keep you cozy and you can add tights and leggings underneath. I also just can't get over these booties, I would definitely wear heels more if I had these. To see more close ups head on over to What Courtney Wore.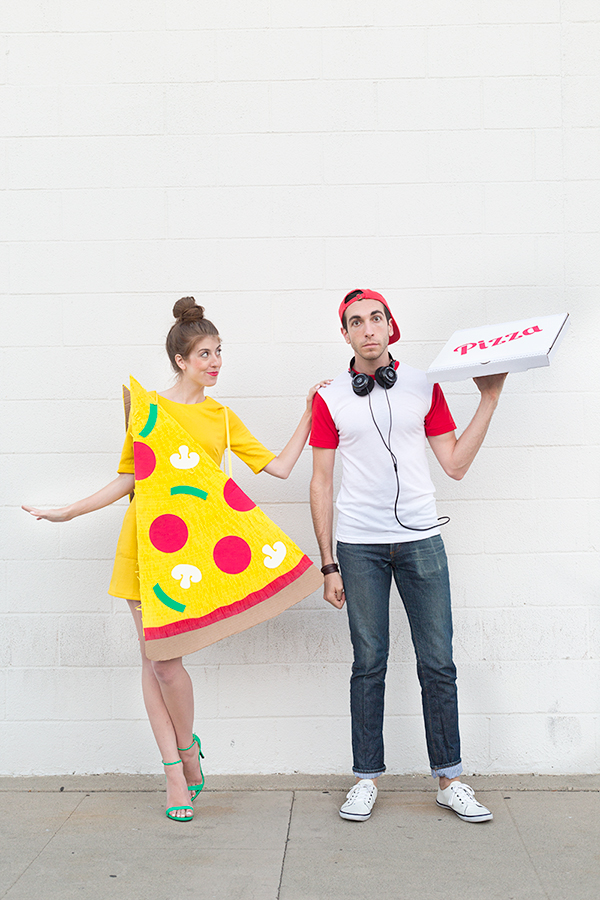 Still need more ideas on Halloween costumes? I got you! If your looking for a couples costume this is great, I mean who doesn't like pizza and the cute delivery guy. You could even be one or the other and go solo dolo. To get step by step slide on over to Studio Diy.
I am all over the plaid trend this season. I really want a plaid scarf like this but I can't find one in my price range, aka something not over 15 dollars because I am frugal. This is exactly what I want it to look like because I think it would keep my neck extra warm. Your gonna wanna see the rest of this outfit, so sashay on over to Southern Curls and Pearls.
Candy apples are good in so many settings- fairs, parties, Christmas, Halloween, and the list goes on and on. They are called "candy" apples but an apple a day keeps the doctors away, especially with candy! Am I right ladies?! There are so many variations you can do with this but these are poison candy apples, just in time for Halloween! To get the recipe whip on over to Simply Delicious.
Orange is such a wow color and a perfect contrast to darker fall colors like army green and black. I have heels similar to these and although I don't wear them often I love them. This orange clutch is to live for as well, especially paired with the striped blouse and boyfriend jeans. To see the whole outfit strut on over to The Macadames.