The weekend is probably my most favorite part of the week. Especially when it involves family, tea parties, and delish food!
1. I love DIY furniture because it can definitely be expensive these days. This is super easy to make and can be found at the lovely,
Lovely Indeed
!
2.This fantastic wedding DIY is from Lezoemusings! It's a make shift photo booth made out of Styrofoam. It looks fun and easy and is a great way to get guests involved on your special day. To view more click
Here
!
3. Believe it or not this ring in handmade! I love rings and this is so fun and would be easy to wear with lots of things! All you really need is doll pieces, ring blanks, and hot glue! To learn the step by step visit the originator, Caroline at
Burkatron
!
\
4. I love purses, like I am in love with them! This pouch is DIY and does involve sewing but I definitely think it's worth it. The pattern is so cute and is a perfect inspiration for the spring/summer season! On this site you actually have a kit that you buy and it has all the materials in it, but I am pretty sure you can make it yourself by following the directions. This box is actually sold out and you have to sign up to actually order. So if your willing to take on the challenge and get all the materials yourself visit at
FortheMakers
!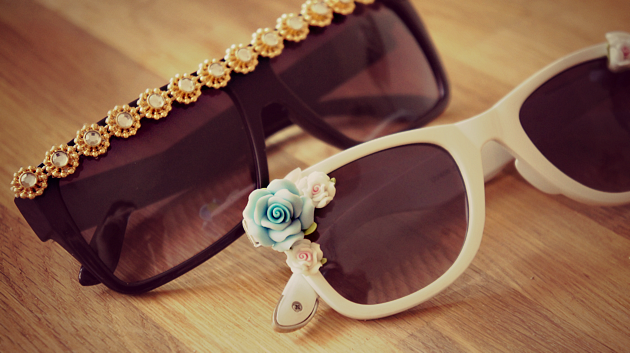 5. These sunglasses are so fun and really inexpensive to make! Basically what you need is some sunglasses and decals from a craft store like Michael's! To see the step by step and other small materials you need visit
Beauty Lab
!
(BTW it's in Dutch but Google should ask to translate)
6. I think this is a perfect statement necklace for spring. It just makes me smile looking at it! The chain and roses should be fairly easy to find at your local craft store and all the other little tid bits you may need. To view the process on making this go to
My Little Secrets
!
7. Lastly I adore this navy trench. I like cover-ups and jackets because I am cold all the time, so I always have a jacket handy. This is perfect to put on and throw off if it's hot out! to see more pictures go to
The Effortless Chic
!
Hope you Had/Have a wonderful Weekend! I know I have!