A clothing rack has become not only a place to display my most worn pieces, but also a second closet. I have one from Target that was a great price and works well. Although I love my clothing rack this one is to live for and you can make it! This is a great piece to show your latest pieces or even as a gift to your most fashionable friend. Swing on over to
Smitten Studio
to make this chic piece!
I feel like if I talk Spring up it will come right away. These flower pot cookies are one of my favorite diy's because they are not only so darn cute, but also easy to make. Flower cookies are never a bad idea and can be a great pot luck dish for St. Patrick's Day! Sprout on over to
The Gunny Sack
to bake these delicious treats.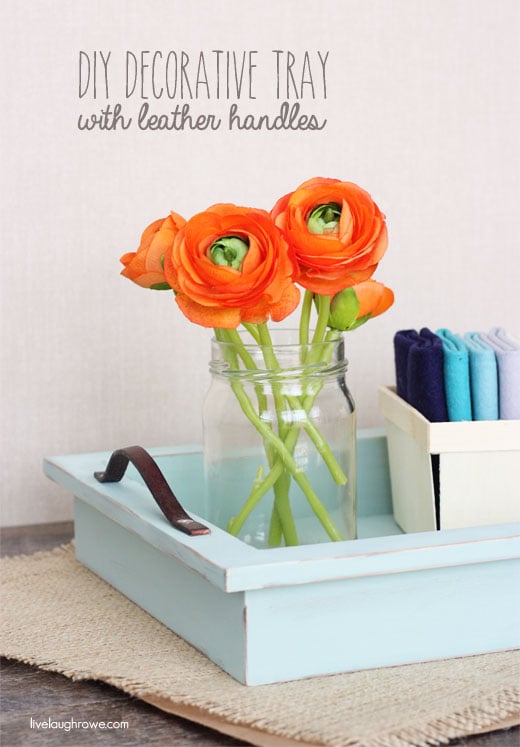 I have been into home goods lately because they make such savvy things these days. What is great about this tray is that it's made by you! Also, this tray is actually a shadow box so it's deeper and can potentially hold more goods. Head on over to
Live Laugh Rowe
to make this cool tray to!
I have been eating tuna a lot lately! I think tuna is not only healthy (depending on what you add to it) but fills you up pretty well too. What I really love about this tuna sandwich is the bread. This bread is thin sandwich rolls, which are less calories than "regular" bread. I actually eat this a lot, it's usually about 100 calories, wheat, and taste really flavorful. This is great because it's a healthy lunch choice and taste really good. Head on over to
Live Laugh Rowe
to make this version!
This spring and summer I am really loving the two-piece look. The great thing about this look is that you can wear it together effortlessly, as well as with other tops/bottoms. This style is great for almost any occasion and is great when you don't know what to wear or in a rush. Visit
Alanna D's
page for more gorg looks.
You can find so many uses for simple kitchen items these days. I love this project because it's quirky, unique, and is a great alternative to regular wall art. You can get really creative with this project and even spell out intinals and names for kids rooms. Scoot on over to
The Sweet Escape
to learn how to make your own!
Staying in for St. Patrick's Day and want a nice beverage to celebrate? A shamrock shake is the best drink. Festive drinks, decorations, and outfits are the best ways to get you excited and pumped about a holiday. Swirl on over to
Merry Thought
to make this delicious treat.


Happy St. Patrick's Day!
XOXO
SimplyWorn